School Project Encourages Student To Step Up To Sustainability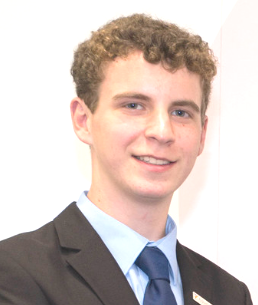 A school project to generate energy from a staircase inspired this year's London Array university bursary winner to pursue a sustainable career.
Thomas Jefferies, who studied A-levels in double maths, physics and chemistry at Simon Langton Grammar School for Boys, submitted the project as part of his application for the £3,000 a year (index-linked) bursary.
He commented: "My school project involved working as a team to create a staircase that can utilise kinetic energy – one that harnesses the energy of its users – for the benefit of the household.
"The project opened my eyes to the world of sustainable energy, prompting me to do additional research in my own time. My hope is that this bursary will enable me to continue working on our designs and one day see StairGen on the production line. I am grateful to London Array for this opportunity."
Thomas is now at the start of a four-year degree in engineering at the University of Cambridge.
Awarded for the tenth and final time this year, the London Array bursary is presented to a candidate who lives or studies within a 15-mile radius of London Array's onshore substation at Graveney. Applicants must be planning to study a subject related to science or sustainable development.
Abigail Langley, senior systems engineer at the offshore wind farm, said: "Thomas really impressed us with his problem-solving and engineering skills, made evident by the prototype mechanism he had built for harvesting energy from footsteps, designed to be built into a staircase.
"Thomas gave his presentation confidently and clearly. He also gave well-balanced and informative answers to our questions about sustainability. He demonstrated an understanding of the offshore wind industry and an eagerness to make a contribution to it in his career – something we happily encourage!"
Previous bursary winners have studied subjects including engineering, geology and geography. The scheme is run in partnership with Kent County Council.